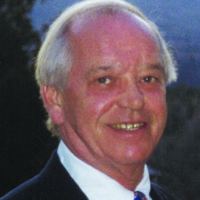 It was his laugh that I remember best. It was loud, raucous, raw, and unique. Whether in a busy bar or a crowded room, when you heard that laugh you knew Ken Strong was there.
Ken passed away on April 17th, in the midst of the first "stay safe, stay at home" phase of the pandemic. He did not die of COVID, but COVID robbed the rest of us of giving him the send-off he deserved. Maybe after we get past the pandemic, we'll get the opportunity to gather in large numbers to share Ken Strong stories. But that appears to be quite a ways off and I can't help but wonder if it will be the same.
Ken was a native Vermonter who as a kid learned to ski in his backyard. In the Air Force stationed in Alaska he began his career as a ski instructor. When he returned to Vermont in 1961, he joined the Mad River Glen ski school eventually becoming a certified ski instructor.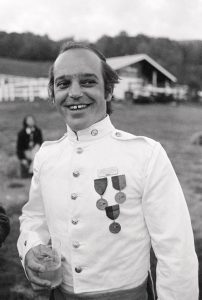 He then joined the Sepp Ruschp Ski School and became part of the Stowe community where he would spend the rest of his life. In 1965 Ken and Ted Ross, a fellow Stowe ski instructor, decided to open a bar and picked what was literally a shed on the Mountain Road. The story goes that they had planned to have a contest to name the bar, but found that to get a liquor license they needed a name to complete the state application. So Ken submitted "The Shed"!
Ted Ross moved on after a couple of years, but Ken and The Shed became a Stowe landmark for 46 years! Locals and visitors flocked there. And while it started as primarily an après ski bar, it became a year-round restaurant, bar, and attraction.
I received correct answers from several people who knew The Shed opened in 1965. One of my old skiing buddies, Pat Ostrowski, who now lives in Saint Augustine, Florida, started going to The Shed after he moved to Vermont in the late 1960s. He says he has many great memories from The Shed and was sorry to hear of Ken's passing.
Nancy Rock also had the right answer. Nancy has retired from Smugglers' Notch Resort after a 44 year career where she was most recently the resort's Marketing Director.
I also heard from Norma Stancliffe who had her first drink at The Shed when she was 16(!). Yes, times were different then. She actually had three 7&7's that first time and then logged 20 runs on the Mountain the next day! She would go on to be a bartender at The Shed for Kenny in 1978 and her kids would also work at The Shed.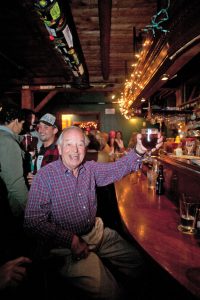 Ken Strong and The Shed are a real Retro-Ski story. I think all of us Retro-Skiers at one time thought about starting a business or taking a job that would put us closer to skiing. I know I did. Ken succeeded in doing that and created a legend that will live in people's memories for generations.
One reason I say it's a Retro-Ski story is because I don't believe it could be duplicated today. Back in 1965 Ken and Ted Ross put in $2500 each to purchase the shed that became The Shed. If we fast forward to today, that $5000 total would be $45,000 in today's dollars. Know of any property on the Mountain Road that you could get for that price? Then there's the difference in attitude and liability surrounding the sale of alcohol. In 1965 if you had a liquor license, you were going to make money. Even law enforcement was tolerant, sometimes offering rides home to customers who had over-imbibed.
Ken Strong wasn't the only Retro-Skier to pass away during the pandemic and perhaps not get the notice they deserved. One was the lawyer who helped Ken and Ted Ross get The Shed started. David Stackpole passed away not long before Ken. I believe it was sometime in the summer of 2019 that I went to the Café on Main for lunch. David and Ken were sitting together and invited me to join them. They shared some great stories and of course there was that Ken Strong laugh!