During the Retro-Ski days we relied on our ski magazines. There was no Internet so we looked to the magazines for what skis to buy, for what ski resorts to visit, and for tips on how to ski better. In college I remember sitting for hours reading and rereading ski magazines when I should have been reading my textbooks.
However today printed media is having a hard time surviving and ski magazines are no exception.
The oldest mainstream ski magazine is the appropriately named SKI magazine.  The first issue was published in January 1936 and is still hanging in there. SKIING magazine came along in 1948. SKIING went out of print seven or eight years ago. It tried to survive in an online version, but I think that may not be around anymore either.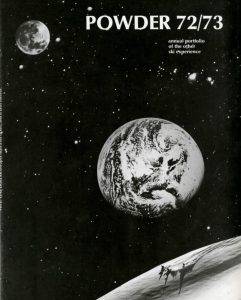 In 1968 Jake Moe dropped out of the University of Washington to be a ski bum. He landed in Sun Valley, Idaho, working on the ski patrol. He became frustrated with the mainstream ski magazines and in 1972 decided to start a new one. He had no experience in what it took to produce a magazine so he called his older, more responsible(?) brother Dave who was teaching high school in Oregon. His brother promptly quit his job and joined Jake to create what would become POWDER magazine.
I received one correct answer to last week's trivia. Kasey Kaufman knew that POWDER began publication in 1973. While the magazine traces its roots to 1972, the first published issue came out in 1973. For extra credit, she also named Sun Valley as where it started. Kasey is good friends with the Strong family. Kasey's first job in TV news was in Burlington and she says "I shared a condo with Kathy Casey before she and Kenny got married and spent many, many nights at the Shed."
The brothers said that the magazine was "a celebration of powder skiing – the finest variety of skiing there is." As part of this celebration the magazine emphasized photography of great powder skiing and skiers. Text was secondary to pictures.
It was in the mid-1970s when I first found POWDER. There was picture after picture without many intervening articles. And the ads, usually the life-blood of any magazine, were all at the end in just a couple of pages. (For many years the Moe brothers insisted on control of the advertising placement.) In contrast, SKI and SKIING contained fewer pictures and many ads throughout the magazine. Plus their articles could be long and there was a tendency to get bogged down in technical details. For example, their analyses of bindings were like Master's dissertations!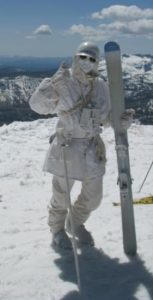 The personality of POWDER was set by Dave Moe. Apparently Dave was a "here, hold my beer" type of guy, hence why I put a question mark on the "responsible" earlier. Plus he had the good fortune to always pull it off, or actually, to avoid serious injury! He created the Captain Powder persona, a man in WWII vintage gear painted entirely white. In fact, Dave used the 10th Mountain Division winter soldier for his inspiration! Captain Powder's mission was to get you off your butt and out skiing.
SKI and SKIING were aiming at the 10-days-a-year skier. POWDER was aiming at the 100-day-a-year skier or those who aspired to be! SKI and SKIING targeted the ski week in Aspen crowd. POWDER targeted the drive-all-night-because-it's-dumping-at-Jackson-Hole diehards. Eventually POWDER became the most popular ski magazine in the world.
Dave and Jake Moe sold POWDER in 1981, but they remained as "Spiritual Editors" for the magazine.  The magazine became more mainstream in style if not in content. That is, ads were interspersed, there were more articles, but it still had the wonderful photography.
I found it interesting that I was originally drawn to POWDER by photography and not the articles, but in recent years I enjoyed POWDER more for its articles than its photography. SKI and SKIING kept shrinking content and didn't feature what I'd call first-class writing. POWDER kept adding content and featured well-written articles on climate change, on sexism in skiing, and more recently racism.
On October 5, 2020, it was POWDER's Editor-in-Chief Sierra Shafer who delivered the bad news: "Effective November 20, 2020…operations of the magazine, our website, and our social channels will be paused." American Media Inc. who had acquired POWDER magazine in 2019 was pulling the plug on POWDER and several of its other publications.
In my opinion there was a definite change in tone for POWDER these past couple of years under Shafer. The previous tone had been definitely masculine. Shafer softened it slightly with the inclusion of more content by and about women. So it's somewhat of a slap in her face that POWDER subscribers will receive "Men's Journal" for the balance of their subscription.