It's amazing how looking at old photos can bring back so many memories. Pat and Mike Weisel who are longtime friends of mine used COVID time to go through their old photos and have some digitized. Since some of those pictures were from our shared adventures spanning 50 years, they forwarded copies to me. What a trip down memory lane! A couple of those pictures spawned this week's column.
I shared some memories from my 1974 ski trip in a column last February. That trip involved jamming 10 people and gear into one van then visiting Alta/Snowbird, Sun Valley, and Jackson Hole.
It snowed every day while we were in Jackson Hole which was a mixed blessing. We got some spectacular skiing, but never got to the top of the mountain! The Tram was only going to Tower 4 due to avalanche and visibility danger above that. But the chairlifts were still providing plenty of fresh tracks.
We had no problem identifying the Jackson Hole locals since they all seemed to be wearing the same brand of parka. However they weren't all the same colors, far from it, they were many different colors. They had a western styled design with a shoulder yoke of one color while the body was a contrasting color. Even the ski patrol wore these parkas although those were a consistent color combination.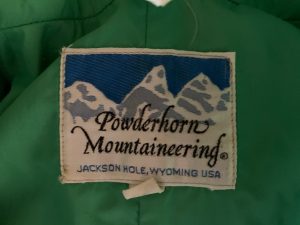 It turned out the parkas were the product of a local Jackson Hole business called Powderhorn Mountaineering. They specialized in custom made parkas with a wide selection of color combinations. As I recall they had a shop right on the main street of Jackson.
RQ Mason had the answer to last week's trivia. He says he learned about Powderhorn from a friend he met in Jackson Hole.  When he lived in Utah in 1975, Powderhorn "was all the rage!"
Glen Findholt also knew Powderhorn originated in Jackson Hole. He added that Smuggs used Powderhorn for their Ski Instructors for a couple years in the early 1980s – red yoke, blue body, and a bright yellow lining. He commented, "They must have used orangutans for design models because the arms were very long!"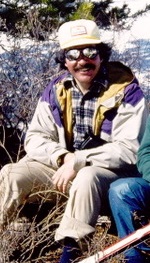 I ordered my first Powderhorn parkas for the 1975 season. I don't remember whether I picked up the sample color swatches at that shop in Jackson or requested them via mail, but the range of selections was impressive. There were swatches for the yoke which was made of a waterproof material; swatches for the body which was a breathable material; and maybe even swatches for the lining. So many choices!
I ordered one longline jacket with hood and a down parka. The jacket had a purple yoke and hood, silver body, and gold lining. Hey, it was the 1970s!  The down parka was supposed to be a yellow yoke, dark blue body, and red lining. However it ended up having a red yoke. Oh well.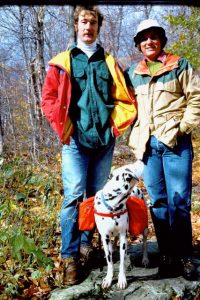 Pat and Mike Weisel also got Powderhorns, but some of theirs were bought off the rack as Powderhorn gained popularity. One of the pictures the Weisels shared was taken atop Mount Lafayette in New Hampshire in the late 1970s. A group of us had gone over to hike the Franconia Ridge in late summer, but the weather was more like early winter! The picture brought back memories of that fun day, but there were Pat, Mike and I all in our Powderhorn jackets! So it also produced that "Oh yeah, I remember those" feelings!
Several of the other pictures Pat and Mike shared came from when they were living in Vail and I spent part of the winter renting a room from them. Whether it was cross country skiing at Camp Hale or skiing the moguls on Prima, I'm in a Powderhorn!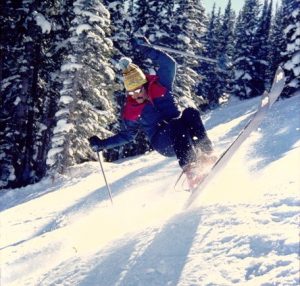 The Powderhorn name without the Mountaineering qualifier is still an active company and still claims Jackson Hole as its base. However I believe the name is really the only link to the original company. They market what I'd call urban outerwear rather than the technical gear that made the original popular. They still have a yoke, but now it's leather. Their claim is that the original founder John Horn (oh I get it, Powder-Horn!) started by making a vest with a leather yoke. That may be, but that's not what made Powderhorn Mountaineering "the rage" in the 1970s and 80s.
Of the three Powderhorn parkas I owned, I still have only the third one which I bought off the rack. But now I do have pictures of the other two!