Ski boots have always been a common complaint by skiers. That was certainly true in the Retro-Ski days of leather boots! The 1960s saw several companies experimenting with plastic ski boots, but Bob Lange emerged from the group with the first plastic ski boot that gained commercial success. Lange ski boots won acceptance with top racers of the day and soon caught on with recreational skiers. The early Langes did offer more performance and durability than leather boots, but they were far from comfortable. The term "Lange Bang" was commonly used among Lange owners.
In 1970 Alden Hanson was the chief scientist at Dow Chemicals. He had come up with a new material at Dow that had many of the characteristics of silly putty and he was looking for applications for the substance. Since the new substance kept its putty-like properties at all temperatures, Alden felt it could be used in the liner of a ski boot to provide better fit and comfort. Alden approached Lange to see if they were interested.
Bob Lange was definitely interested. He made some boots with a liner using the new material and had the staff try them out. The responses were all positive: the liner conformed to the user's foot, it was soft, and didn't affect the boot's performance. Lange-flo was born!
Before we leave Alden Hanson, in addition to Lange-flo he holds patents for rear-entry ski boots and the electric fan snow guns! His sons would eventually produce the Hanson rear-entry ski boot.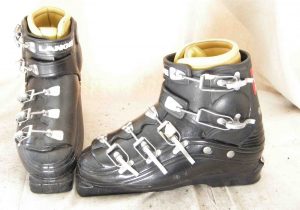 Lange was excited about putting Lange-flo in all their boots, but they had a problem. They would have to hurry to get the material into the boots for the 1970-71 season so there wouldn't be time for extensive testing with the Lange-flo. They had orders for 200,000 pairs of ski boots that they were eager to fill.
Responding to last week's trivia question, Will Spalding didn't know who invented Lange-flo, but he had firsthand experience with what came next. "I'll bet whoever it was took their inspiration from the folks who make Bazooka bubble gum, because the Lange-flo had just about the same texture….. During the first season I had the boots the liners in both of them sprung leaks, and the flow that oozed out onto my thermal socks was just like chewing gum and never came off the socks!"
Yup, the flo interacted with the vinyl liner they put it in and leaks developed. Lange offered to fix the problem, but that involved returning the boots to the factory for the fix. The number of returned boots sort of overwhelmed the staff and led to repaired boots being returned to the wrong customers. The overall debacle cost Lange over a million dollars and that was when a million dollars was a significant amount! It also affected the reorders for Langes for the 1971-72 season.
Will Spalding says he repaired his leaky Langes with duct tape. He also described the other problem with Lange-flo which was that it would settle to the bottom when the boots weren't being worn. Glen Findholt also commented on this problem. In 1971 Glen was living in Stowe and his downstairs neighbor had a pair of Langes with Lange-flo. Glen remembers that "during the off season he would turn them from rightside up to upside down or vice versa every month to keep the Lange-flo from accumulating in the bottom of the liner."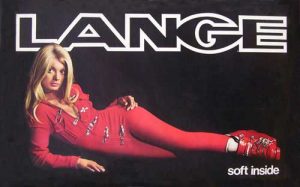 Lange-flo can also be credited for starting another Lange tradition, the Lange Girls! To advertise the new softer Langes an ad featured an attractive blonde reclining in a red stretchsuit and Lange boots. The caption said "Soft Inside." Hmmmmm? Well, they say sex sells!
Every year since then Lange has produced a poster featuring an attractive young lady with Lange boots and sometimes very little else!! Initially these were models and even included Pamela Anderson. More recently they have been actual World Cup women skiers such as Lara Gut, Tina Maze, and Julia Mancuso. Actually Julia was the Lange girl multiple times.
While some poster photos were used in their ads, most of the posters get distributed just to Lange dealers. And yes, Benny Wax has a collection of Lange Girl posters.
Many of the Lange Girl posters have become collectors' items going for hundreds of dollars. At Vintage Ski World you can get a copy of that original Lange Girl poster for $125! Julia's only going for $39.95!