I guess it was inevitable that one of my trivia questions would stir up a controversy! But I'll get to that a little later in the column.
Averell Harriman was a railroad magnate in the 1930s. He had seen the growing popularity of destination ski resorts in Europe and felt it was time for the United States to have one as well. Skiing was becoming more popular in the U.S., but the skiing areas tended to be in rural towns with few luxury options. Harriman wanted to build a ski resort for the "rich and famous" that would be easily accessible via his railroad. After an exhaustive search, he settled on Sun Valley, Idaho.  By the way, one of the sites that didn't make the grade was Alta, Utah!
The area opened in 1936 and featured the first chairlifts in the world. And the rich and famous did come.  Movie stars like Gary Cooper, Clark Gable, Errol Flynn, and author Ernest Hemingway were regulars. Another visitor to Sun Valley was the head of 20th Century Fox studios, Daryl F. Zanuck. Zanuck thought that Sun Valley would be a natural setting for a movie featuring his number one box office star, Sonja Henie.
Sonja Henie won her first gold medal in figure skating at the age of 15 in the 1928 Olympics. She followed that with gold medals in the 1932 and 1936 Olympics. She started a very successful ice show that toured the country. Then she made a successful transition into movies. A retrospective about Henie claims that she was arguably the first "superstar" although that term wouldn't be coined until the 1960s.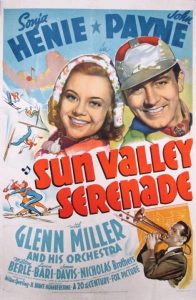 In the winter of 1940-41 the movie "Sun Valley Serenade" was made in, of course, Sun Valley. In addition to Henie, it starred John Payne with Milton Berle providing comic relief. It also featured Glenn Miller and his orchestra who were the most popular musical group at the time.
The plot was a romantic comedy where John Payne's character sponsors a Norwegian refugee fleeing the Nazi invasion. He expects a young child, but she is a young woman. And a young woman with designs on marrying her sponsor! The movie had something for everyone. Of course there was Sonja skating. Boy, could she spin! There was music, and it was great music: "In the Mood" and the debut of "Chattanooga Choo Choo," for example.  "Chattanooga Choo Choo" would be Glenn Miller's first recording to sell a million copies.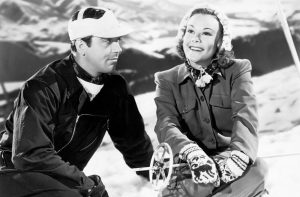 Plus there is skiing in the movie! (That's what this column is supposed to be about after all.) Throughout the movie the skiing fashions of the day are highlighted. While we tend to think of outfits from that era as more function than fashion, there are some that would still look good today! You also see the equipment of the 1940s, long wooden skis, leather ski boots, and those ski poles with the huge baskets.
The ski scenes take you on a tour of 1941 Baldy: the three single chairs that took you to the top; the views of Ketchum in the valley below; the Christmas and Easter bowls. The skiing involves a chase scene which was a part of every ski movie of the era. There was also a comedic run by Milton Berle's character.
But who did the skiing for Sonja Henie? The expected answer to that question is Gretchen Fraser who in 1948 would be the first American to win Olympic medals, a silver in the Combined and a gold in the Slalom.
Mike Leach, historian for the Mount Mansfield Ski Club, had that answer, but he also unearthed a controversy.  Marilyn Shaw of Stowe was an up-and-coming ski racer and was the youngest to make the U.S. 1940 Olympic team. Of course those Olympics were canceled, but 1941 found her in Sun Valley training and racing. Shaw family lore has it that Marilyn was the skiing stand-in for Sonja Henie! By the way that claim is echoed in Marilyn's induction to the U.S. Ski Hall of Fame in 1986 and also in Pat Haslam's "Ski Pioneers of Stowe, Vermont."
Mike has a letter scanned from a scrapbook of Marilyn's that the family loaned to the MMSC. The letter is from 20th Century Fox dated April 3, 1941, asking for Marilyn's Social Security number which would indicate she probably did some work for them.
So was a stand-in for Sonja Henie Gretchen or was it Marilyn? Or maybe it was both of them!
"Sun Valley Serenade" was inducted into the U.S. Ski and Snowboard Hall of Fame's Top 100 Ski Films in 2011. I highly recommend the movie for all Retro-Skiers! You can rent it on YouTube and probably other streaming services. Or you can stay at the Sun Valley Lodge where it's shown hourly, 24-hours a day, every day!