So last week's trivia question asked what alpine skier holds the record for most consecutive seasons with at least one FIS World Cup win? George Lengvari had the answer I was looking for: Alberto Tomba! I do have to say that he shares that record with Vreni Schneider, but it's "Tomba la Bomba" that I plan to write about this week.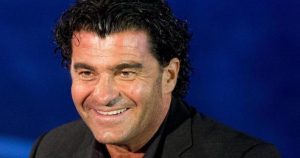 Alberto Tomba was born December 19, 1966 near Bologna, Italy. His father, Franco, ran a textile company in Bologna which provided the family an upper class standard of living. Franco had become hooked on skiing while he was a college student in Switzerland. So he wanted his family to also enjoy the sport, but there are no ski areas close to Bologna. Franco would actually drive Alberto and his older brother Marco to the closest ski area over an hour away, drop them off, and then drive back to his office in Bologna. At the end of the day he'd drive back and pick the boys up.
Alberto began skiing at age three and was racing by age seven. His older brother likewise became a racer, but would not stay with it. Alberto's results were good enough to make the Italian team for the World Junior Championships in 1984 which were held at Sugarloaf, Maine. He captured a 4th place finish that served notice of his potential.
As Alberto Tomba matured, he had the physique of a downhill speed skier, but he was a technical slalom and GS specialist. His mother had expressed her concern about the dangers of the speed events, he promised her he wouldn't ski downhill. And he never did, although he made a brief attempt at Super G which resulted in an injury proving mother is always right!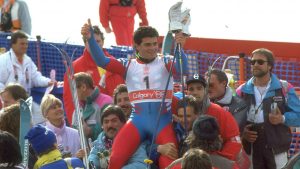 Alberto made his World Cup debut in the 1985-86 season at the age of 19. However it wouldn't be until the 1987-88 season when he made his presence known. He won both the slalom and GS in the opening World Cup race of that season. Leading up to the 1988 Calgary Olympics he had won 7 races. His father promised him a Ferrari if he won a gold medal. Alberto won both the slalom and GS gold medals! He made a collect call to his father and said, "Make it a red one!" And Alberto wasn't done making calls to celebrate his Olympic success. He also called Calgary gold medal winning figure skater, Katarina Witt, and asked her out on a date!
In his career Alberto would win a total of 50 World Cup races and collect 88 podiums. He won the overall World Cup in 1995. He won the individual discipline cups in slalom and GS four times each. In the Olympics he accumulated 3 golds and 2 silvers while in the World Championships he had 2 golds and 2 bronze.
He retired in 1998 and went out in Tomba style winning his last race, a slalom at the finals of the World Cup.
With such credentials why was I surprised when I read that Alberto Tomba shared the record of 11 consecutive seasons with at least one World Cup victory? Well, in addition to Alberto Tomba the skier, there was Alberto Tomba the playboy who was the darling of the media. When asked before the 1992 Olympics whether his lifestyle affected his training, Alberto answered "I used to have a wild time with three women until 5am, but I'm getting older. In the Olympic Village here, I will live it up with five women, but only until 3am."
Today Alberto claims he was only joking back then, but he does still drive a Ferrari!