Just to review where I left off last week. Founded in 1946, Barrecrafters became one of the leading producers of ski racks, ski poles, and ski boot trees. The Brooklyn-based company was acquired by Richard Snelling to add to his Shelburne Industries in 1968. The plan was to move production from Brooklyn to the Shelburne, Vermont complex that Snelling had developed.
That move from Brooklyn involved transporting all the manufacturing equipment from the 3rd and 4th floors of the Brooklyn facility to be reassembled in the Shelburne Industries buildings. A process that would take months, but had to be done in a way that wouldn't affect the company's ability to meet product commitments. Most of the key employees in Brooklyn were offered positions in Shelburne, but none of them accepted! Dick Snelling faced the challenge of staffing his newly acquired company.
Snelling knew that they needed engineering skills to handle the manufacturing equipment. That's where Bob Penniman enters the picture. Bob graduated from UVM with an engineering degree in 1969 and was hired by Snelling. I don't know if Snelling knew he was getting a two-for-one deal, but I'm sure he figured it out in a short time. Bob is a skier and an engineer so he understood the end product as well as manufacturing.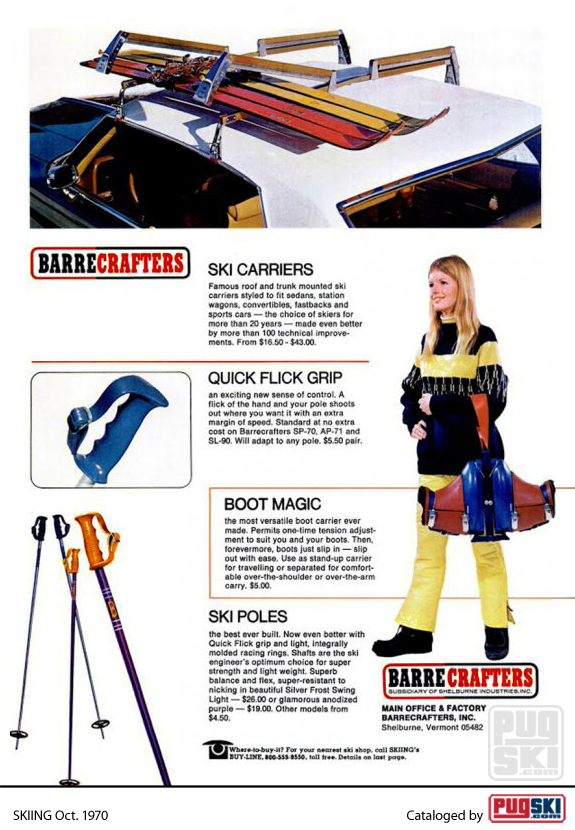 Snelling asked Bob if he had ideas for how the Barrecrafter products could be improved. As a skier Bob did have ideas. The aluminum used in their ski poles was updated to a higher grade of aluminum, making them more competitive with the popular Scott poles. They introduced the "Quick Flip" pole grip. This was the first generally available grip where you didn't have a loose strap to slip your hand through. The concept was patented, but Barrecrafters licensed the patent and got the poles on the market in 1970. The U.S. Ski Team adopted them and Barrecrafters sold a record number of ski poles that year. An aside, I loved those grips. I think I still have a set somewhere.
Also in 1970, Barrecrafters claimed over 100 technical improvements in their ski rack products. Bob sent me links to a couple of his patents, one of which also bears Dick Snelling's name. That one was for a new locking system for ski racks that actually didn't get introduced until 1971. For those who remember the old lockable roof racks, there were actually four locks involved. The new racks only needed one lock.
Barrecrafters also decided to get into the actual ski business by becoming a distributor for ski brands that weren't available yet in the United States. While Dick Snelling was a skier he turned to Bob to help make the decision on what brands that should be. And Bob turned to his skiing buddies to test the various skis. I was lucky enough to be one of those testers. It was a lot of fun trying different skis and I learned a lot about my own skiing.
At that time I was skiing on Hart Javelins which were a great ski and I felt gave me a good reference point. The testers' choice was the German Fritzmeier ski that was fantastic for eastern conditions, which means ice! However the skis were pricy and would have to be $300 a pair at a time when top skis were $200. That would be a tough sell for a new ski in the U.S. market. The more practical choice was the Italian Maxel brand which could be priced more competitively.
In my memory, the first batch of Maxels we tested were almost unskiable! However later in the season an updated batch of Maxel skis arrived which were some of the easiest skiing boards I've ever tried! One of my fellow testers would ski on his Maxels for several years! They were great powder skis. By the way, Maxel is still in the ski business in Italy.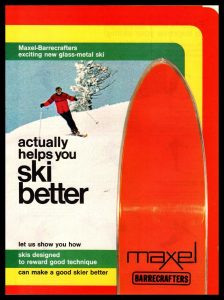 Rather than make a choice, Barrecrafters went for both Fritzmeier and Maxel, probably influenced by Bob and us testers. They mounted separate marketing campaigns with the flashy, multi-page spreads going to Maxel and far more subtle black-and-white advertising for the Fritzmeier.
Barrecrafters wouldn't last long in the ski distribution business. One reason may well have been that Bob Penniman left the company in 1971 after just two years. Bob left to become head of F. H. Wiessner Company which is a story for another time. Bob says Dick Snelling was a mentor from whom he learned a lot.
By 1975 Barrecrafters was back to its core business of ski poles and ski racks. At some point they stopped making ski poles leaving only the rack business. In 2000, Shelburne Industries sold Barrecrafters to SportRack Accessories, a Canadian company. They would maintain a Vermont presence in Williston, but in 2004 the company moved production to its Quebec facility. Barrecrafters is sort of still in the rack business, but it shows up under the SportRack name.