I became addicted to skiing in the 1960s when I was in college. Part of that addiction was devouring ski magazines. In those days there were two mainstream ski magazines, SKI and SKIING. I was lucky since various fraternity brothers had subscriptions to both magazines so I could just mooch off them. They probably did get tired of me hanging out in their rooms while they were trying to study, but in a way I was studying too!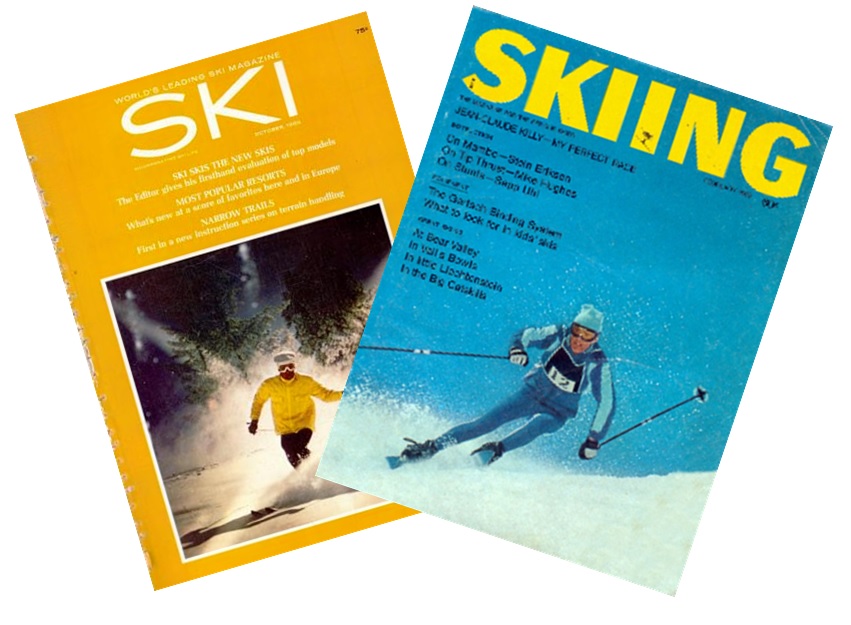 I was still learning to ski so I was particularly drawn to the ski pointers that were in each issue. I tried many of them with mixed results. I also studied all the latest equipment reviews, although I was in no position to actually purchase any of it. And then there were the articles about ski destinations that gave me something to dream about. Of course I've written before about the fact that it was an ad in a ski magazine that led me to a job at IBM Burlington.
My obsession with ski magazines continued after I graduated and moved to Vermont. I subscribed to both SKI and SKIING, and eventually would add Powder to my quiver. However the digital age has not been kind to printed media and ski magazines are no exception. Last season I bemoaned the loss of Powder magazine which left only SKI to appease those of us who still prefer a printed magazine to online content.
It's appropriate that SKI was the survivor since it is the oldest in the genre. The first issue was published in January 1936 and originated out of Seattle, Washington. Ironically, I have a digital copy of that first issue.
It is not surprising that most of the articles in that first issue dealt with skiing in the Pacific Northwest. There were articles about Tacoma, Leavenworth, and the Wenatchee Valley. Remember this was before any lifts or official ski areas, so the articles described trips and trails available to those willing to climb. Although some Wenatchee skiers were already using airplanes to get them to the top – an early precursor of heli-skiing!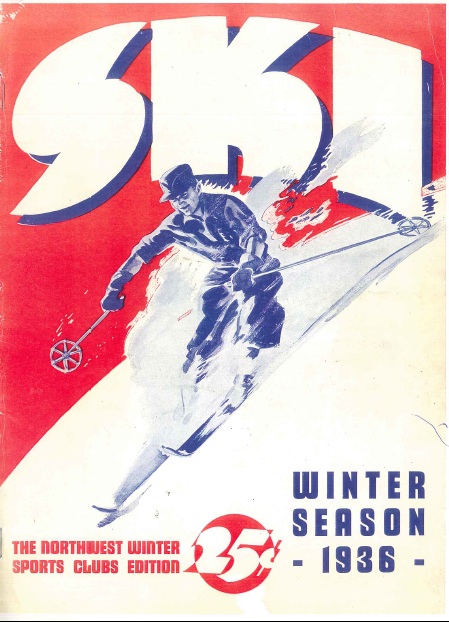 There were also articles on "Beginner's Tips" and the upcoming 1936 Olympics. A couple of excerpts from the "Beginners Tips on Skiing and Clothing" show the differences between skiing then and now. "If falling is unavoidable, select the place if possible, crouch low and fall to rear and side." Sounds like an ACL injury to me. "Three pairs of woolen socks should be worn to assure the maximum of foot comfort." Well, there's probably someone somewhere that still thinks that's a good idea!
Perhaps more interesting than the articles are the 1936 advertisements. The most recognizable advertiser is Eddie Bauer where you could get laminated skis (state-of-the-art at that time) with bindings and poles for $17.95. Oh, they would also throw in climbing skins. Ski boots were $6.95 and Eddie Bauer parkas ranged from $4.95 – $7.50.
Fast forward 85 years and SKI is still with us. If you've received the first two issues of SKI this season, you may have noticed a change in its look-and-feel. I attribute that to its new Editor-in-Chief, Sierra Shafer. That name may sound familiar since she was previously the Editor-in-Chief at Powder before its demise. Last year I praised her for the changes she had made at Powder in her tenure. She made the Jaded Local just a little less Jaded!
Sierra announced the change in her first issue of SKI by featuring an African American skier in a cover photo taken by an African American photographer. The first time that had happened in SKI's 85 year history. In the second issue which typically features voluminous resort rankings based on readers' feedback, you'll find just lists of the top 10 eastern and western resorts. If you want to see more details, such as why did Stowe rank 17th in the East right behind Seven Springs, PA, you'll have to visit SKI's online website.
Sierra Shafer grew up skiing in Colorado and in fact, returned there this past week for Thanksgiving and skiing with her family. She graduated from a small Pennsylvania college which gave her some exposure to eastern skiing. She says westerners will say "they only got 4 inches last night so I'm not going out today" while easterners will say "so what if it's raining, I'm going skiing!"
Sierra is too young to be considered a Retro-Skier, but she still believes there's a need for printed media. So hopefully SKI magazine will continue to fuel my obsession for years to come.