Last year Stowe Mountain Resort celebrated its 85th anniversary of lift-served skiing. The list of ski areas with 85 years or more is very short. Joining that list this year is an area from my old stomping grounds in New Hampshire, Cranmore Mountain Resort in North Conway.
The fact that Cranmore exists and has lasted 85 years is an enduring reminder of the generosity and dedication of its founder to his home town!
Harvey Dow Gibson was born and raised in North Conway. Born in 1882, his father was the local railroad station agent. Gibson went to Fryeburg Academy and then to Bowdoin College where he graduated in 1902.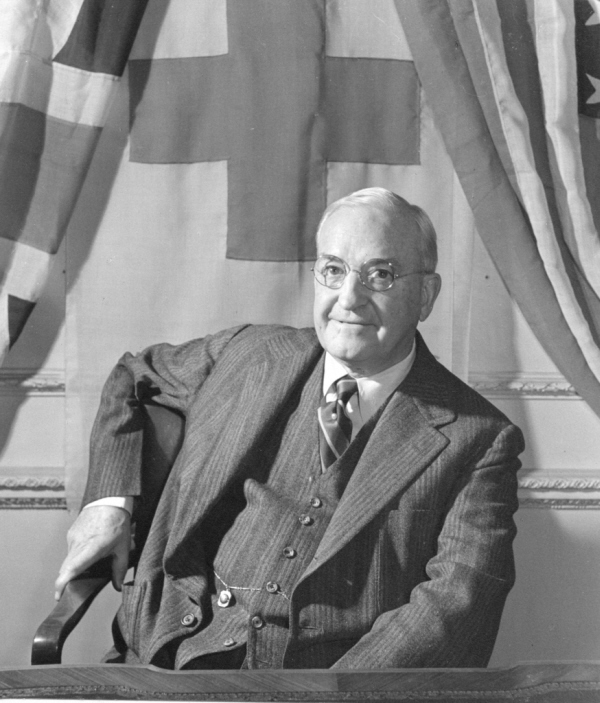 Gibson's first job was with the American Express Company in Boston. To say he started at the bottom may be an understatement. Despite a college degree, his first job was basically as a janitor. He worked his way up until he was named the manager at the Montreal American Express office in 1905. His success there brought him back to Boston as an assistant manager.
After leaving the financial business to run his own travel agency, he was recruited back to take a position with Liberty National Bank in New York City. In 1916 Gibson became the youngest bank manager in New York City's financial district.
In 1930 as the Great Depression took hold, Gibson was named the head of Manufacturers Trust. In addition to managing Manufacturers through the difficult economic times, he also headed up successful fundraising efforts to provide relief for unemployed workers in New York City. This was before Franklin D. Roosevelt's New Deal that established unemployment benefits and led to Gibson being an economic adviser to the Roosevelt administration.
In 1936 Gibson received a visit from Carroll Reed, another now-familiar North Conway name. Reed had started the Eastern Slope Ski School in nearby Jackson, New Hampshire, and wanted to update Gibson on the growing popularity of skiing and its potential as an economic driver for the North Conway area.
Gibson as a shrewd business man saw the opportunity. In 1937 he quietly bought up the various land parcels on the west side of Cranmore Mountain, a mountain that he probably looked at every day growing up. He also bought the Hotel Randall, the largest hotel in North Conway. He would rename it the Eastern Slope Inn and I'm pleased to report that it still sits as a landmark on the Main Street of North Conway!
Gibson also struck a deal with Carroll Reed to move a rope tow he had in Jackson to Cranmore and to establish a branch of the Eastern Slope Ski School there also. In January 1938 Cranmore ski area opened with lift-served skiing for the first time!
One of Gibson's New York friends was Averell Harriman, then CEO of Union Pacific Railroad. Harriman had developed Sun Valley as a ski resort in 1936. Gibson actually brought Harriman to North Conway and sought his advice on how to make it a successful ski resort. As quoted in Gibson's autobiography, one piece of advice from Harriman was "construct the best and most modern tramway in existence!" Harriman went on to add that as long as it appealed to skiers, it wouldn't matter what you charged.
Gibson turned to a local engineering talent, George Morton. Gibson told Morton he could travel anywhere in the world to evaluate possible lift options. Morton being a practical New Hampshire-ite only traveled as far as Gilford, New Hampshire to look at the single chair that had recently been installed at Belknap Recreation Area. And Morton didn't like what he saw. He didn't like the fact your feet dangled as you rode up. Now why he thought skiers would prefer to take their skis off to having them dangle off a chair isn't clear, but he designed a completely unique lift, the Skimobile!
Morton came up with a lift which transported skiers in individual cars that "ascended a wooden trestle, pulled by a cable under the track." (http://www.cranmore.com/winter/resorthistory) The first segment known as the Lower Skimobile was completed in time for the 1938-39 season, Cranmore's second season. The Upper Skimobile was completed the following year.
The source for a lot of this Cranmore history is the book "The History of Cranmore Mountain" by Tom Eastman.