Last week I described how we had some great skiing in Val d'Isere on my first European ski trip in 1973 with friends John Dawson, John Fox, Jerry Gates, Ken Hildick, and Bob Penniman.
Before I move on to our next destination, I did also hear from the "Scribe," Kim Brown, author of the Ski Bum Report, identifying Val d'Isere and Tignes as the two resorts that comprise l'Espace Killy. Kim commented, "Val d'isere is far more British than French, a reflection of just how many decades the Brits have been in the French Alps!"
That surprised me a little since in our 1973 visit we didn't find a lot of English speaking folks there. None of us spoke French so communicating was a challenge. My one year of French allowed me sometimes to read written information, but no way could I understand someone speaking French rapidly. Ordering in restaurants, I would usually order first and then there would be a chorus of "deux" from the other guys! They weren't always happy with what I – or we – ordered!
Maybe partly for this reason I somehow ended up making the rental car arrangements to get us to our next stop, Chamonix. Hertz or Avis weren't exactly an option in Val d'Isere at that time. Since there were six of us, I got a van. I think it was a Renault, but I'm not sure.
As luck would have it, the first snowstorm we had was on the day we were driving to Chamonix! In good weather it's probably a three hour drive through the French mountains with spectacular scenery. In the snow with a strange vehicle it was a nail-biting, white knuckle ordeal that took most of the day. In fact I remember it was dark when I turned the van in at Chamonix.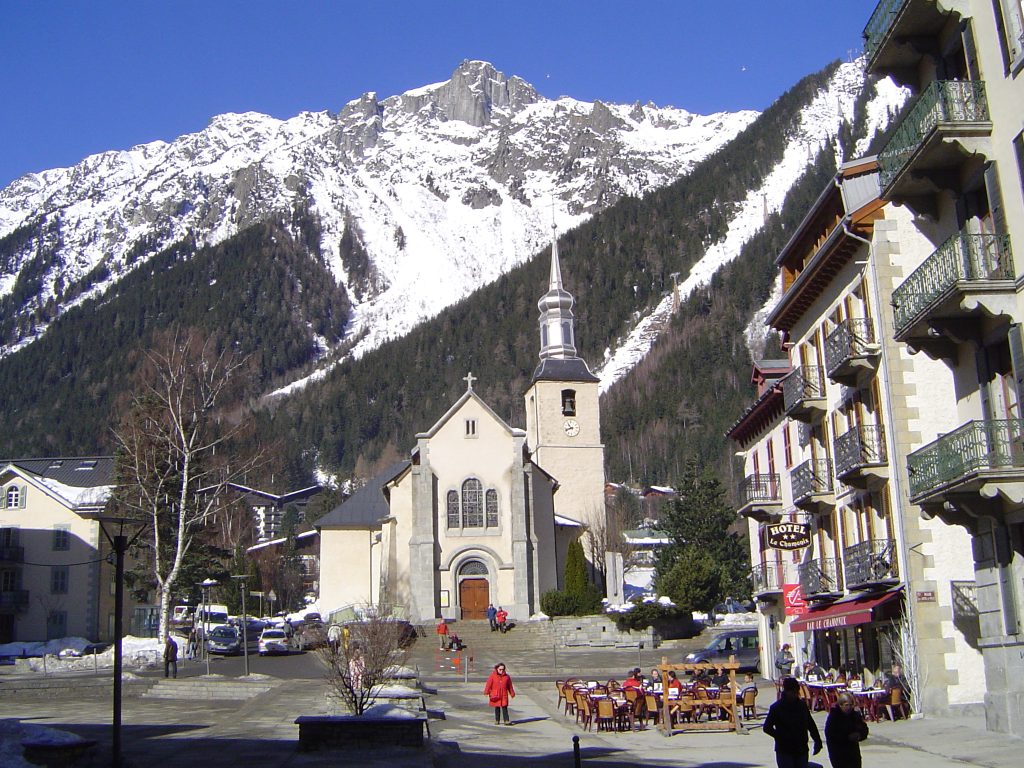 The next morning it was still snowing so we chose the closest place to ski which was Brévent. The lower tram for Brévent was an easy walk from the hotel. On the map, the lower tram would take you up to the other lifts which included another tram. However we learned that the upper tram was not operating due to the snow, so the only skiing would be on a chairlift. Plus the trail back to the base was closed so we would have to ride the lower tram back down after skiing. Undeterred we headed up and were treated to some really good powder skiing and some really lousy visibility! We've all had that experience of being in a place you've never skied when you can barely see the tips of your skis. Each of us augered into the powder a few times, but it was still fun.
Later in the week when the sun came out we returned to Brévent and got to ski the upper tram. It fed a big open slope plus a series of steep chutes. Ken Hildick and I searched out the widest of these chutes and tried it. It was steep enough so that the slough you triggered on each turn followed you down the slope. Ken took a picture of me on that run with the powder flying that I still treasure!
There were a couple of differences between skiing Val d'Isere and Chamonix back in 1973. In Val d'Isere all the skiing was lift connected so you could explore all that terrain without having to take any shuttles. But in Chamonix the various ski areas were separate so you took a bus to access them. Second, in Val d'Isere we could ski right back to the base where we were staying. However at Chamonix we'd run out of good snow before getting back to the base area. That is, you could ski to the bottom, but you'd have to get your skis tuned afterward! So we'd usually take a tram back to the village level.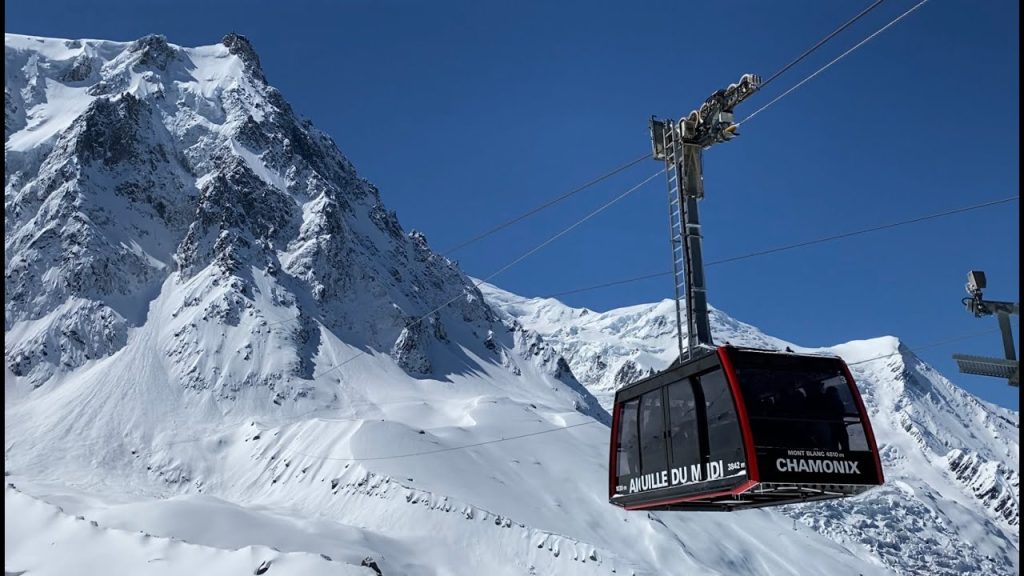 However my most memorable Chamonix experience didn't involve skiing. We played tourists and rode the trams from Chamonix up to the Aiguille du Midi which is a rock spire on the flank of Mont Blanc. You can ski from there, but in 1973 you had to hire a guide to lead you down the Vallee Blanche which we opted not to do.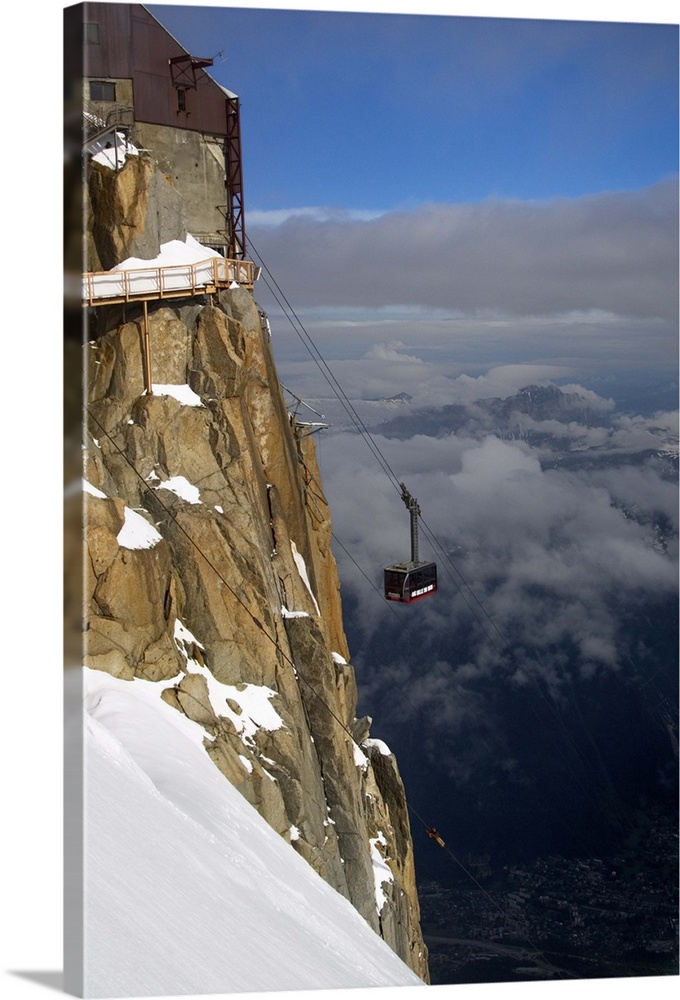 The upper tram is an engineering marvel. You ascend over 5000 vertical feet with no towers, just the cables, and the upper station is literally etched out of rock! It took John Fox two tries before he dared to ride that tram!
Bill Driscoll was the first to correctly answer last week's trivia question. He also included that the tram from Chamonix takes you to Plan de L'Aiguille and the upper tram I described goes from there to the Aiguille du Midi. My old skiing buddy Glen Findholt also had the answer that it was Chamonix.
Thank you for letting me share my memories of Val D'Isere and Chamonix from 50 years ago. Sadly John Fox, Ken Hildick, and Bob Penniman are no longer with us to share their memories. But they ski on in our memories!