Last week I began the story of how Harvey Dow Gibson built the Cranmore Ski Resort in his native North Conway. I'll continue the story where I left off last week, the Skimobile.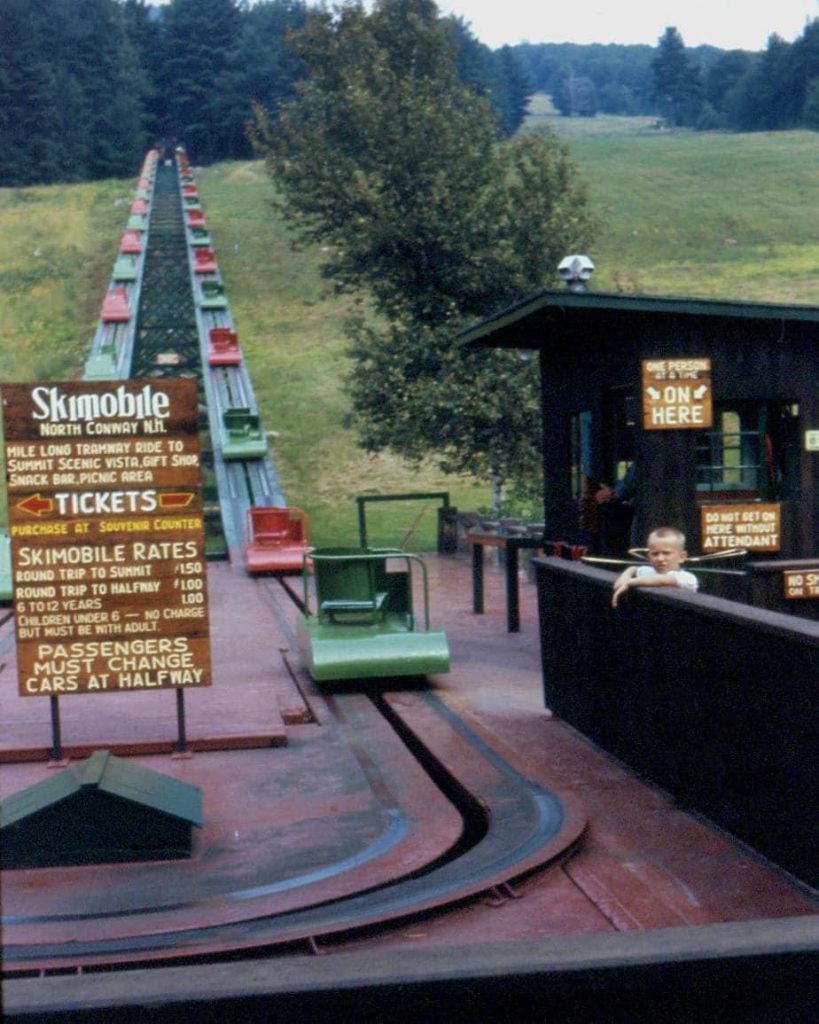 The Lower Skimobile was finished for Cranmore's second season (1938-39) and the Upper Skimobile was added for the 1939-40 ski season. The Skimobile was a hit with skiers! It was faster than the single chairs available at that time. Unlike a chairlift, it offered the flexibility of getting off at various stations along the way so you didn't have to go to the top for every run. Plus the Skimobile became a summer attraction since it was so unique. Whenever family friends or relatives visited us, they wanted to ride the Skimobile!
As I also mentioned last week, Gibson contracted with Carroll Reed's Eastern Slope Ski School to provide ski instruction in the first season for Cranmore. But in the summer of 1938 Gibson bought the ski school from Reed. The ski school was led by Austrian Benno Rybizka who was using the Arlberg method of instruction.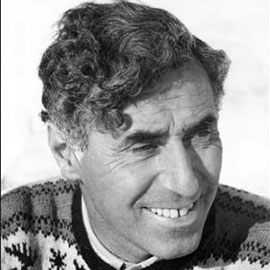 The Arlberg method was developed by Hannes Schneider of St. Anton, Austria. It was a stepwise approach that enabled instructors to teach a group of students at one time. The steps went from Snowplow to Snowplow Turn to Stem Turn to ?
RQ Mason and Glen Findholt both had the answer that the next step was Stem Christie! Glen has been a long time instructor at Smuggs, but I'm not sure he's old enough to have taught the Arlberg method!
Instructors that were trained by Schneider were in great demand both in Europe and the United States. Carroll Reed and the Eastern Slope Ski Club had arranged for Rybizka to come to the United States to teach skiing in 1936. Similarly, Sepp Ruschp, another Schneider product, was brought to the United States by the Mount Mansfield Ski Club to bring the Arlberg method to Stowe.
Thanks to the Arlberg method's popularity and the ski movies that featured Hannes Schneider, his name was recognized around the world and not just the world of skiing! Harvey Dow Gibson wanted to bring Schneider to Cranmore.
In 1938 Schneider was under house arrest in Germany. Hannes Schneider's fame and anti-Nazi views made him a problem for Hitler's German government. Schneider had propaganda value, but definitely was a risk to defect.
However Hitler also had another problem. Loans taken out by the government he deposed were coming due and defaulting on them would crash the German economy. And who controlled most of the financial institutions that held the loans? Harvey Dow Gibson! Through negotiators, Gibson made it clear that new terms might be possible if Hannes Schneider and his family were allowed to leave Germany for the United States. A deal was agreed upon and on January 9, 1939, Schneider received papers for his family to emigrate.
On February 11, 1939, Hannes Schneider, his wife Ludwina and children Herbert and Herta arrived by train in North Conway, New Hampshire! The iconic picture of Hannes and Ludwina escorted by Harvey Dow Gibson and Benno Rybizka through an arch of ski poles held by 150 junior skiers is now recreated every year by volunteers with the New England Ski Museum.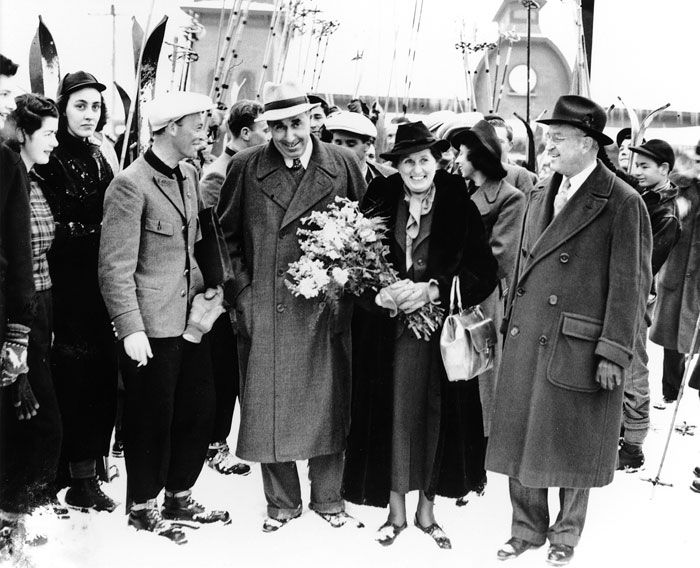 The addition of Schneider further fueled the popularity of Cranmore and North Conway as a skiing destination. Influential and famous people such as the Fords, the Rockefellers, the Rothschilds were among those drawn to try skiing under the guidance of Hannes Schneider. Even C.V. Starr and his wife took lessons at Cranmore from Schneider. Of course Starr would turn his attention to Stowe and eventually turn it into his own signature ski resort.
Harvey Dow Gibson made many other contributions to his home town. At the 1939 World's Fair held in New York City, he somehow arranged to bring a Swiss orchestra that played at the fair to come to North Conway! Several of them settled in the North Conway area providing musical leadership in the schools and community for many years. I was a member of the Community Center Band which was directed by one of the Swiss emigres. Well, actually two of them, as one passed away and another took over while I was a member. We wore uniforms that had been bought by Harvey Dow Gibson. And we rehearsed in the Community Center building donated by Gibson.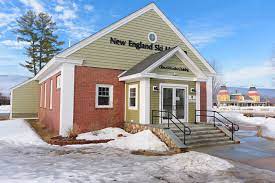 It is entirely appropriate that the New England Ski Museum now occupies that former Community Center building on the main street of North Conway, another tribute to Harvey Dow Gibson!
The source for a lot of my Cranmore history is the book "The History of Cranmore Mountain" by Tom Eastman.