She was the overall World Cup winner for women's moguls four times. She won a total of 21 World Cup mogul events. She is in the U.S. Ski and Snowboard Hall of Fame, the Vermont Ski and Snowboard Hall of Fame, the Vermont Sports Hall of Fame, and the UVM Sports Hall of Fame. And she lives here in Stowe!
However Pat Ostrowski of Saint Augustine, Florida, was the one with the answer to last week's trivia question identifying Hilary Engisch-Klein as the mogul champion from 1984. Pat was a ski instructor at Smuggs in 1970s and 80s and he says, "Hilary was on top of the mogul skiing world around that time. She was a legend at Smuggler's, and trained there. I met her at ski school parties we had in the summers on Lake Champlain."
Hilary was the fourth of six children and grew up in Williston, Vermont. She was hooked on skiing early and participated in the Smugglers race program. She mentioned at her induction to the U.S. Ski and Snowboard Hall of Fame that being the fourth child had its advantages in that it made her harder to keep track of. She occasionally would stash her skis in the woods, skip the school bus, and then hitchhike the 40 miles to the ski area. And one day she ran into her father at the ski area, almost literally! That may have curtailed some of her extracurricular skiing!
After watching some mogul events on TV, Hilary basically said "I can do that!" She left racing behind, although she still maintains that racing is good training for becoming a mogul skier. She actually began competing as a pro at age 17 and winning prize money. Her first win came at Silver Star, British Columbia, in 1978.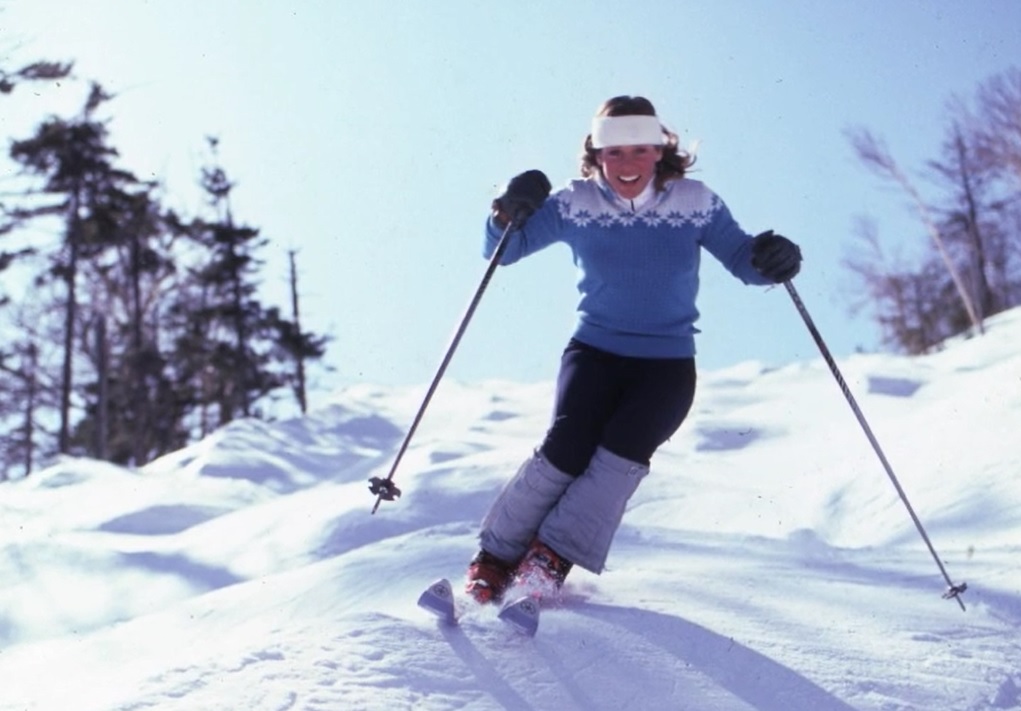 In 1980 the FIS created the World Cup mogul competitions and Hilary became the dominant women's skier. She won three events that first season and as a result the overall World Cup in moguls. In 1981 she would win five events and repeat as the overall champion. Also in 1981 she competed in the Pro Mogul Tour and won all five events there!
The mogul competitors at that time faced an interesting decision. They wanted mogul skiing to be an Olympic sport, but the Olympics were still restricted to amateurs! So Hilary and the others decided to give up the money that came with being a professional for the sake of achieving Olympic status for their sport. This wasn't without some hardship as the competitors now had to raise money to support their travel and training. They often had to stay at people's houses as they traveled through Europe and the United States. But Hilary recalls this made the competitors a closer knit community and the source of many great memories.
Moguls were added as an Olympic event in 1992, however it was too late for Hilary and some of her contemporaries. She has no regrets about this and is happy that the sport has achieved that status.
As an amateur Hilary won two more overall World Cups in 1982 and 1984. In 1984 she also suffered a serious knee injury that required surgery. Not one to waste time, Hilary used her recovery and rehab time to co-author "Skiing Freestyle" which would be the training guide for the U.S. Freestyle Ski Team. She would return to competitive skiing after the injury, but retired in 1987.
Looking back at her competitive career, Hilary is proudest of handling the pressure. She talks about finding that "sweet spot" where you block out the noise and find a quiet focus standing atop a mogul run. She attributes some of that to her study of martial arts which began at a young age.
And Hilary is still skiing! She describes her skiing now as "fast and flat" on her titanium knees!
Hilary is a breast cancer survivor and that experience motivated her to start Kids on Top (https://www.kidsontopvt.com/), an outdoor adventure program for children suffering from cancer or other serious childhood diseases. "In collaboration with The University of Vermont Medical (UVM) Center's Pediatric Oncology department, our team of experienced coaches create a lighthearted atmosphere for children of all ability levels. "
If talking about all this mogul skiing has you wanting to see some, this weekend the U.S. National Mogul Championships will be at Waterville Valley in New Hampshire. The men's qualifying round is on Friday (3/24) while the women's qualifying is Saturday (3/25) morning. The individual finals for both men and women is Saturday afternoon. Sunday (3/26) it's the dual moguls.