Barry Stone shared a story of his first visit to Val d'Isere that was so good that I asked if I could share it in my column. He gave me permission so here is the story in Barry's own words:
"My wife Carol and I took our 2 kids, Jeff and Judy, to Val D'Isere in 1972. At the time, the kids were racing in the Mt. Mansfield Ski Club program and Jeff (in whose memory the MMSC Jeff Stone Award is given annually), was the # 1 seeded racer in his age category (known back then as the Junior III's and IV's). We went to Val D'Isere and hired a guide who took us to the far reaches of L'Espace every morning. The guide was quite taken with the kids skiing abilities, especially Jeff at age 13. He said that the local kids were so full of themselves as racers and all thought they were junior Jean Claude Killy and that the town holds a "standard" slalom race once per week and he would love our kids to enter and "beat the pants off the hot shots." The kids jumped at the idea and mom and dad proudly watched as Jeff not only won his division but was awarded the coveted Chamoix pin owing to his super fast time. Our guide was incredibly excited. Judy is 3 years younger than Jeff and won a lower level medal. And by the way, 3 years later, Judy went on to win the Vermont girls' III's and IV's and was awarded the VARA trophy."
Jeff Stone was an accomplished skier and tennis player who tragically died at age 25. As Barry alluded, the Mount Mansfield Ski Club and Academy present an annual scholarship award in Jeff's memory. Also Barry and Carol present an annual UVM Jeff Stone Memorial Award to a male and female student-athlete who demonstrate exceptional contributions in the area of community service and campus leadership. Jeff was a star tennis player at UVM.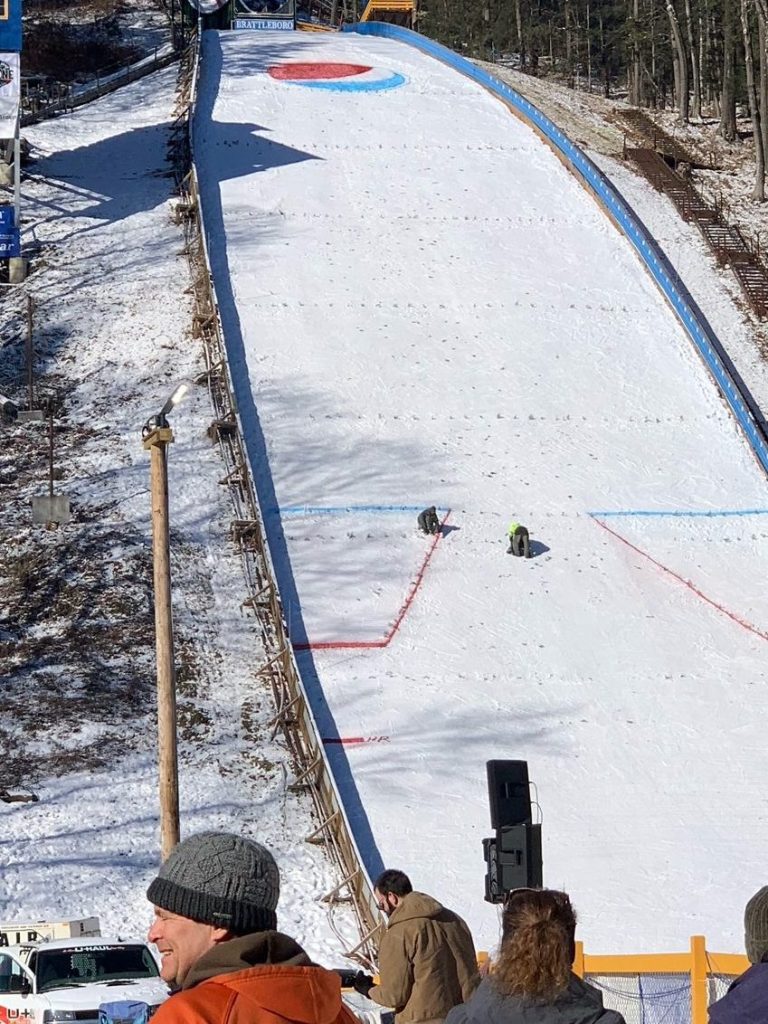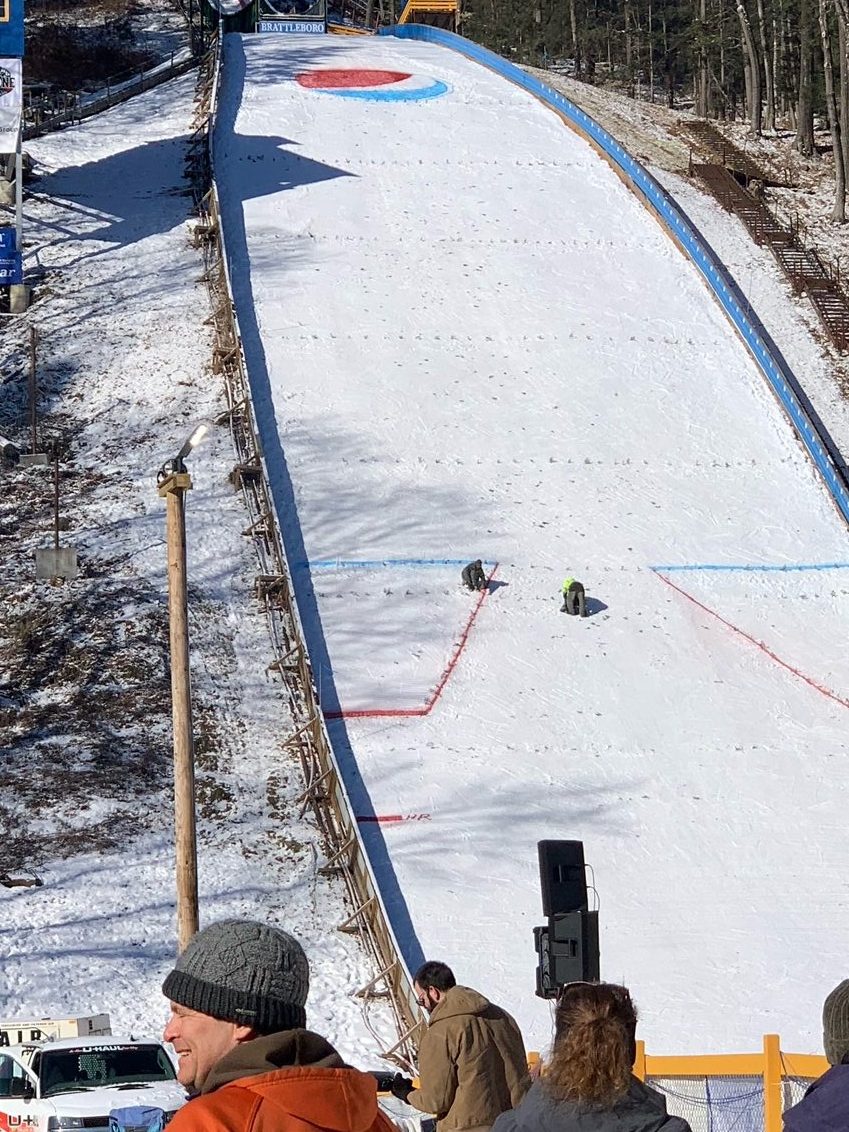 I spent President's weekend at the 101st annual Harris Hill ski jumping event! Once again it was a blast to be there. And once again the weather tested the local all-volunteer team that does the event. The only snow in sight was on the outrun! However unlike last year when they had to make snow the night before to hold the event, this year their new snowmaking system had stockpiled enough snow ahead of time. Mount Snow brought over a groomer the night before to turn that snow into the outrun. Granted, volunteers had to manually put snow on the jump itself. Not a job for the faint of heart!
The event drew a good crowd each day and they were well entertained. Not just by the jumpers, but by the various food and beverage vendors as well. On Saturday there were more people in the beer line than watching the jumping! If you've never gone to this event I highly recommend adding it to your bucket list.
I met a fellow there named Lou Keller and we swapped skiing stories for quite a while! He was an older freestyle skier who actually specialized in ski ballet. When he found out I was originally from the Conway, New Hampshire area, he shared a story I'd never heard. It involves someone I mentioned in a recent column about Wildcat.
One of the founders of Wildcat was Brooks Dodge. Both he and his father, Joe Dodge, are legends in the Mount Washington Valley. Lou told a story about a prank that Brooks Dodge and a friend pulled in their younger days. The two of them cut down an evergreen tree, somehow dragged it up Cannon cliff and affixed it upside down on the chin of the Old Man of the Mountain. And voila, the Old Man had a goatee! Lou swears this is a true story!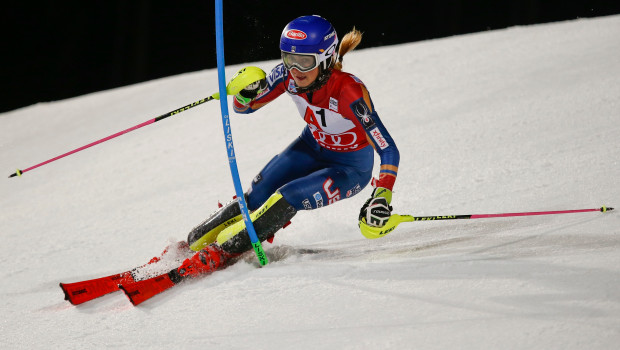 Now let me see, what was last week's trivia question? Oh yes, when did Mikaela Shiffrin win her first World Championship medal? That would be at the 2013 World Championships held in Schladming, Austria! Mikaela won the slalom gold medal at the age of 17.
With the completion of the recent World Championships, Mikaela now has 14 World Championship medals, seven of which are Gold. She trails only Christl Cranz who had 15 through her career. Cranz had the advantage of having the World Championships held every year while she was racing. Now they occur every two years.
While Mikaela had a great World Championship, she did have to settle for Silver in her signature slalom event. The Gold went to former UVM racer Laurence St-Germain who skis for Canada.