I started skiing in the 1950s which meant I started on wooden skis. I've written about Northland skis and how Northland became the largest ski maker in the world. Their hickory skis combined relatively good performance and durability for a reasonable price. But they weren't the "racers' choice" as far as wooden skis. In the 1950s the most sought-after ski for racing was the Kästle.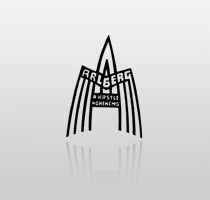 Anton Kästle was an Austrian woodworker who started making skis in 1924. During World War II Kästle provided skis for the German army, building up a production capability. After the war, Anton Kästle became intrigued with the emerging sport of alpine ski-racing. His goal was to make the best racing skis in the world.
Kästle's success in achieving that goal was due to a fortuitous combination of the materials he had to work with and evolving ski techniques. By the 1950s, the wedeln technique caught on with racers allowing them to make quicker and more controlled turns. Slalom courses became tighter and more challenging; Giant Slalom was added as an event at the 1950 World Championships. The technique and courses demanded a softer, responsive ski to give the performance racers were seeking.
At that time most wooden skis were made of hickory, but in post-war Europe the only hickory available had to be imported from the United States, an expensive proposition. To reduce the cost, Kästle used an ash core which produced a lighter, softer ski – just what the racers wanted! The skis were more fragile than their hickory competition, but racing success overcame any durability concerns.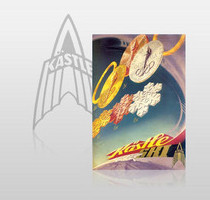 Kästle skis helped fuel the success of the Austrian ski team during the 1950s. Othmar Schneider, Anderl Molterer, and Toni Sailer all skied on Kästles. Sailer won his three gold medals at the 1956 Olympics on Kästles. But even more impressive was Sailer's string of 25 consecutive GS wins, all on Kästles!
Austrians weren't the only ones to benefit from the Kästles' performance. Andrea Mead Lawrence won her gold medals at the 1952 Olympics on her Kästles. By 1956 the entire American ski team was on Kästles including names like Buddy Werner, Tom Corcoran, and Brooks Dodge.
Billy Kidd skied on Kästles and in fact, won his 1964 Olympic slalom silver medal using wooden Kästles! Historically this figures as the last major ski race won on a pair of wooden skis. Those skis now reside in the Colorado Ski Museum located at Vail.
Unlike Northland, Kästle would successfully make the transition from wooden skis to the modern combinations of wood, metal, and fiberglass. In 1966 Kästle introduced the first of its CPM (Compound-Plastic-Metal) series.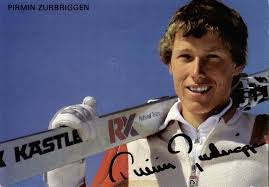 In 1968 Anton Kästle retired and sold the company to Josef Fischer of Fischer skis. Kästle skis became a subsidiary of Fischer. From the 1970s through the 1980s, Kästle continued to have racing success featuring World Cup winners Andreas Wenzel and Pirmin Zurbriggen. During that same time period Kästle's recreational CPM line became very popular and still often shows up in people's "favorite ski" lists.
Kästle did produce a couple of short-lived ski models. One of those was the "Klack", a metal ski with magnets embedded in each ski. The idea was that you wouldn't need straps to keep your skis together when you were carrying or transporting them. Just get the bottoms close together and "Klack", the magnets would hold them tight. I'm not sure how well that worked, but they weren't around long!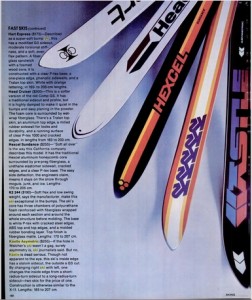 Then there was the "Asymetric". Yes, I know that's not how you spell asymmetric, but maybe it is in Austrian. Each ski had one slalom-cut edge and one GS-cut edge. Put the slalom edges on the inside and you had a slalom ski; swap feet and you had a GS ski. I did get a chance to demo a pair of these and I couldn't really tell the difference. But that was in 1976 and I wasn't quite as good a technical skier as I am now. However I don't believe the model was continued the next season so maybe my opinion was correct.