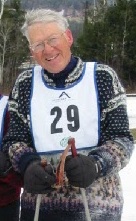 How many seasons have you been skiing? Grant Reynolds is celebrating his seventy eighth consecutive ski season making him a true RetroSkier!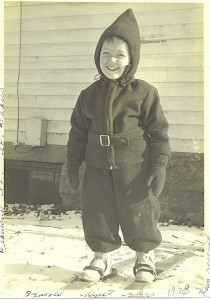 Grant's skiing started as a child on Christmas day 1938 in Saint Albans. By the time he was in high school, he was one of two students that ran Sabin's Pasture rope tow in Montpelier. The other student operated the rope tow and Grant says "I did everything else: organized packing crews, kept the stove in the warming hut going, sold tickets, policed the lift line, and threw snow in the inevitable ruts."
At Bates College, Grant supported his skiing by working on others' skis and selling second hand skis, many of which he obtained in Stowe. More importantly, it was at Bates where Grant met fellow skier Jo Trogler who would later become his wife.
After completing law school at Columbia, Grant and Jo would become Pennsylvania skiers. They raised their family skiing at Ski Roundtop where Jo was an instructor and Grant a race coach.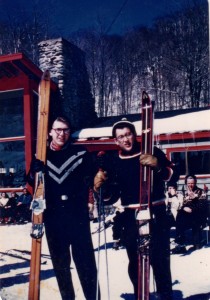 In 1970 Grant became a ski collector almost by accident. He was trying to sell his last pair of wooden racing skis, Erbacher "Pepi Schweigers," which he had purchased in Pforzheim, Germany in 1964. There were no takers so he kept them! After that he began obtaining older skis dating back to the early 1900s. He concentrated primarily on collecting racing skis and kept adding to his collection as ski racing evolved.
Grant stopped collecting in 2015 at the age of eighty. His wife told him it was time to start offloading rather than collecting. Grant who now lives in Tinmouth, Vermont, donated the majority of his collection (over 150 pairs of skis) to the Vermont Ski and Snowboard Museum.
The Museum is featuring fifty pairs of skis from the Grant Reynolds collection in its current exhibit. In addition to those Erbachers some of the other notable skis include 1955 Stein Eriksen "Streamlines" purchased at Maurius Eriksen's shop in Oslo, and a rare pair of 1975 Sohler "Phantoms" made in Richford, Vermont. That's correct, Sohler had a factory in Vermont at one time.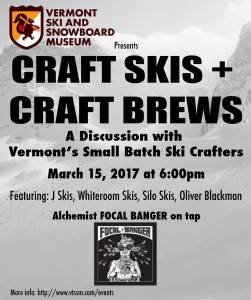 You have an opportunity to meet Grant Reynolds, see some of his ski collection, and hear from several current Vermont craft ski makers. The Museum is sponsoring "Craft Skis & Craft Brews Launch Party" on Wednesday March 15th . The party begins at 6PM and admission is free.
The highlight of the evening will be a panel discussion moderated by Dave Schmidt, a longtime ski and snowboard industry consultant. The panel will include Jason Levinthal (J Skis in Burlington); Vin Faraci (White Room skis in Hyde Park); Cyrus Schenk (Renoun skis); Lars Whitman (Silo skis in Richmond); and Oliver Blackman who makes skis for his own use.
Oh, and there will be Alchemist Focal Banger on tap!