You may be surprised to learn that the first American alpine skier to be successful competing against the Europeans was born in Florida! Granted, the fact that his family moved to Garmisch, Germany, when he was thirteen played an important role.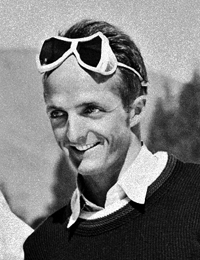 Dick Durrance was born October 23, 1914 in Tarpon Springs, Florida. He would attend New York Military Academy where he was introduced to skiing. Once the family moved to Germany, Durrance was surrounded by the best skiers in the world and he proved to be a quick learner. In 1932, at the age of 17, he won the German National Junior Championship.
The following season Durrance moved up to race at the international level. One of the skiers that caught Durrance's attention was Austrian Toni Seelos. Seelos had mastered a quick parallel turn that made him a two-time World Champion in slalom. Durrance began trying to copy that turn.
With the rise of Hitler, the Durrance family returned to the United States in 1933. Dick had a year of high school to complete and went to Towle High School in Newport, New Hampshire. On the ski team he perfected his version of the turn Seelos used and called it "The Tempo Turn." Durrance's racing prowess grew national attention when his high school ski team started beating college teams including almighty Dartmouth! As a high school senior Durrance won the Eastern Championship downhill held on the Taft Trail at Cannon Mountain – by 30 seconds!
Dick entered Dartmouth College in the fall of 1934. He would help Dartmouth win four national championships. While he was primarily an alpine skier, he competed in all four events: downhill, slalom, cross country, and jumping.
During his college years he still maintained a busy racing schedule on both the national scene and in Europe. He would become the first American to win a major European race in Sestriere, Italy, in 1936. That same year he represented the United States in the Winter Olympics which was the first time alpine skiing was included. The only medal awarded was in the Combined (downhill and slalom) where Durrance placed tenth. The following year he would win the first Harriman Cup held in Sun Valley, Idaho.
And of course, in 1935 he came to Stowe to help demonstrate the new slalom event!
Nancy Twitty had the answer that it was Dick Durrance who wowed the locals with his slalom ability. She also recalled that Durrance won the second Inferno race held on Mount Washington in 1937.
Sun Valley was Durrance's first stop after graduating from Dartmouth. There he would meet his wife Margaret "Miggs" Jennings, an accomplished ski racer also. He began to pursue a career as a film maker. His first two films were promotional ski movies for Sun Valley: "Sun Valley Ski Chase" and "Sun Valley Holiday." They became popular and helped establish Sun Valley as the premier ski resort in the United States.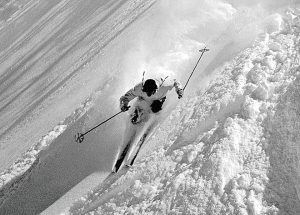 Durrance next moved on to a small ski area that was just getting started, Alta! His stay would be short, but he developed a new turning technique to handle the steep powder that makes Alta special. He called it "The Dipsy Doodle" and it was a precursor to modern techniques. As World War II began, he tried to train soldiers to be skiers for the U.S. Army. The result was the famous decision that it would be easier "to teach skiers to be soldiers than teach soldiers to be skiers" that led to the formation of the 10th Mountain Division.
After the war the Durrances moved to Colorado. Initially to Denver where he worked for skiing-related companies, but eventually they would settle in Aspen. In 1947 Durrance accepted the job as manager of the Aspen ski area. Unlike Sun Valley, Aspen was not yet known as a national or international skiing destination. Durrance began cutting new trails including the famous "Ruthie's Run." He also came up with the bold plan for Aspen to host the World Championships in 1950. It was the first time the World Championships were held outside of Europe. The success of this event put Aspen on the international map.
Dick Durrance would leave his job at Aspen ski resort in the mid-1950s to pursue his career as a full-time commercial film maker. However he would live in the Aspen area until his death in 2004 at age 89.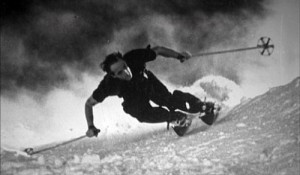 I've only touched the surface on Durrance's accomplishments. He was the first American to be competitive with the best Europeans. He won 17 U.S. national skiing titles, a record no one has matched. He helped establish world-class ski resorts in the United States. His skiing-related movies drew many new people to the joys of skiing.
Today there's a popular backcountry peak outside Ketcham, Idaho, near the Sun Valley Resort. It's called Durrance Peak. As skiers return to their roots, it seems appropriate to honor Dick Durrance.