A couple weeks back I wrote a column about Lena Gale Allen. This week I received a nice note from her son, Dana Allen. He included a copy of a letter from Lena that appeared in the Stowe Reporter in February 1953. You may recall that was the winter she spent in Europe training and racing.
In the letter she talks about some of her race results in Austria and Germany. This included the Hahnenkamm in Kitzbuhel where she commented "Frankly [I] was scared stiff!" That was partly due to the conditions. Lack of snow led to rocks and dirt on the courses.
She also included an anecdote from Garmisch where she was running the downhill course and in a very narrow section of the trail encountered a team of oxen pulling a load of logs! She says, "Had one chance, the trees! Since, have had to laugh at that – where in the states does that occur?"
Now on to this week's column. On my blog the topic that receives the most comments is rear entry ski boots! In particular the Salomon SX-7x/8x/9x boots that gained popularity in the 1980s and 90s. Believe it or not, there are still folks skiing in those boots today!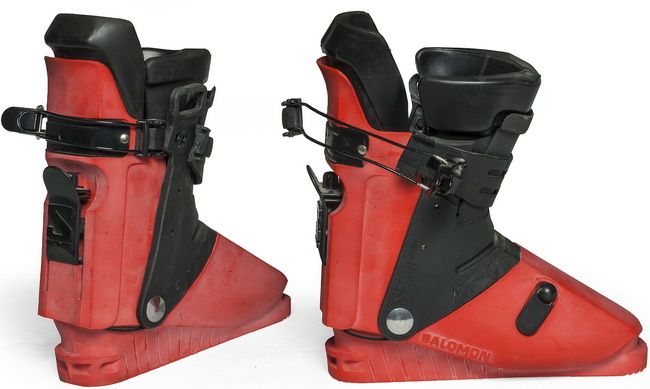 "I have used (and loved) my rear entry Salomon SX-72 boots for over 25 years." Eric posted on 1/28/23
"I have my SX91 since 1988… fantastic boots, comfortable and good enough to ski everywhere. The heels are dead…and I need to replace. This is my coming challenge." Jean Noel posted on 2/5/23
"My Salomon SX80 Ski boots and I are celebrating our 40th anniversary. We have done a LOT of skiing together. The cushioning, fit, and look of them is still almost as new. I don't know what materials this model was made from but anything that can last this long, and this well, must probably be toxic….!" Mike P. posted on 3/23/23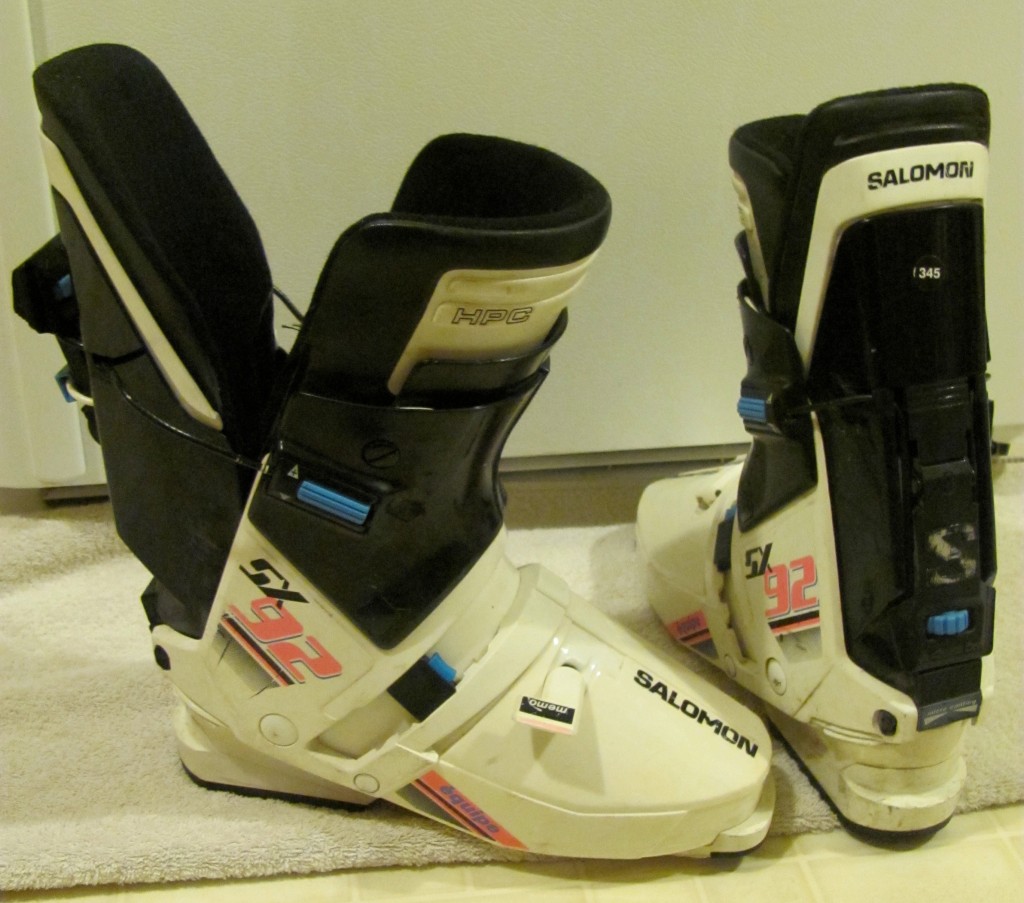 "I bought my Salomon SX80 in Norway in 1980. I was just in Purgatory Colorado, a few weeks ago. 43 years of skiing and still no issues with them except for the sole on the heel. Looking for a 3D model but no luck so far." Svein Ove Askeland posted 3/27/23.
"My 40 year old Salomon SX80 rear entry boots still remain the best I've ever worn. Unbelievable materials still seem as good as new. Still give excellent comfort and control." John posted 3/31/23
I've written before about Salomon dropping rear entry boots in 1998 despite the popularity of the SX series. In some respect they were a victim of their own success. Competing boot makers unable to match Salomon's quality began to disparage rear entry boots as being for "losers." This campaign was so successful that Salomon management felt the rear entry boots were hurting its credibility in the ski and binding business as well.
As indicated in some of the comments, the challenge for today's Salomon SX owners is how to keep these boots skiable when they begin to break down with age. There are always people looking for SX series boots for sale to scavenge parts. And now there is a market for 3D printer files that will produce replacement parts.
Of course there are a couple of new entries in the rear entry arena from Atomic and Nordica. I don't know how the Atomic entry is doing, but a couple of local skiers are now skiing the Nordica HF boot. Ken Duclos and Tom Hubbs have good things to say about the HF in terms of how easy they are to put on or take off, and how comfortable they are while providing adequate performance.
Apparently the way Nordica has decided to handle the rear entry stigma is by not using that description anywhere! The HF stands for "Hands Free" and their demo video actually shows some skiers jumping into their ski boots! Not sure we'll see Ken or Tom demonstrating that feature. In their write up Nordica emphasizes the Easy Entry Shell and Back Buckle Closure. Hmmm? Sure sounds like a rear entry boot to me! But maybe they don't want people searching the web for "rear entry".
By the way that Back Buckle Closure system does look interesting. It appears you can at least close the buckle Hands Free! No bending over after you leap into your boots!
Well, that wraps up another Retro-Ski season. Last year I finished the season in a less than positive mood. However this season that snow we received in March has put me in a much better mood! It's amazing how quickly you can forget that in February you were ready to sell the house and move to Utah with just a couple of good skiing days!
Thanks to all my readers and the Stowe Reporter for continuing to encourage me. Once again this season I'll finish with Al Sise's quote that "every day is a great day of skiing!"