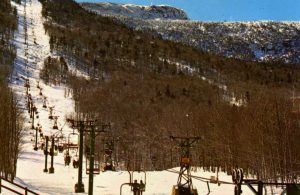 I've reached the point in this ski season that marks the 50th anniversary of the first time I skied Stowe! I didn't remember the actual date, but some deduction led me to believe that it was on March 29th. I know it was after the Waterville Valley World Cup and before Easter so hence my deduction.
As I have said before, my main reason for not skiing Stowe was its $10 lift ticket when nobody else was charging more than $8! So what changed my mind? Some new skiing buddies!
Earlier in the winter I had been working with a fellow at IBM named Dick Jonis. As I recall, I was skiing Madonna one day and encountered Dick who was also skiing there. After we took a run together he said, "I've got some friends you've got to meet!"
Dick eventually set up a skiing "date" where he introduced me to Bob Penniman and Jerry Gates. And the location was to be at Stowe!
The weather on Saturday March 29, 1969 was spring-like with a dense cloud covering the mountain all the way down to the top of Pitch 13. The cloud was so thick that as you rode up the chair you could not see the chair ahead! Skiing an area for the first time with skiers who are familiar with the area always puts you at a disadvantage. However skiing an area for the first time with skiers familiar with the area when you can barely see ten feet in front of you is really challenging!
I was worried about getting separated from my new skiing companions so I felt I had to ski close enough to keep them visible. The National in those days included what's now called the National Drop-In. When we headed down the National I was skiing so close to Bob that when he had to bail out on a mogul I ran right into him! Great way to make a first impression.
I lost track of what trails we skied. I knew they seemed steep, but I was so focused on keeping up that it all became a blur. I know I was tired at the end of the day.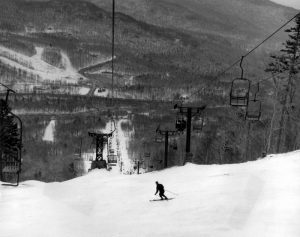 I actually came back the next day on my own. Sunday was a clear day and I just had to see what I had missed. In some respects I was glad that my first day had gone the way it did. Because of the limited visibility and my narrow focus on keeping up, I hadn't been intimidated by the terrain. This helped me on Sunday when I could see, since I knew I'd handled it under much more difficult conditions. I loved the sustained steep bumps and there were so many of them! No grooming on Liftline or Nose Dive or any trails for that matter so you had to work all the way down.
Those two days convinced me Stowe might be worth $2 more a day.
Dick Jonis, Bob Penniman, Jerry Gates, and I became regular skiing buddies. In the following years, we not only skied Stowe and other Vermont areas, but would end up taking ski trips to areas in the West and Europe.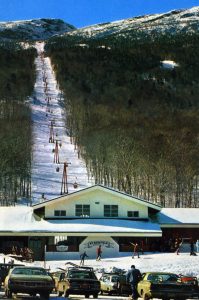 One of the lifts I didn't ride on that first day at Stowe was the Gondola. The 1968-69 season marked the debut of the first Stowe gondola. It was a four passenger model and originated in what is now called the Midway Lodge.
John Lutz identified the Gondola as the "new" lift for that season. I had the pleasure of meeting John on the current gondola last Thursday. He's from West Virginia, but is a long time Stowe skier. Regular contributor Gary Tomlinson also correctly answered last week's trivia question.
The old gondola got off to a rocky start. On December 31, 1968, one cabin detached and fell 20 feet. One person was seriously injured and the three other passengers suffered minor injuries. After repairs and reinspection, the lift reopened on January 8, 1969.